Best Beaver
---
Given by Rev Featherstone (former minister of the church) in 1988 because he felt sorry for the Beavers who did not have an annual award at that time.
Awarded annually at the Anniversary Service.
Awarded to a Beaver Scout.
Awarded for being best.
Beaver Leader Team decision with Group Scout Leader and Group Chair's agreement.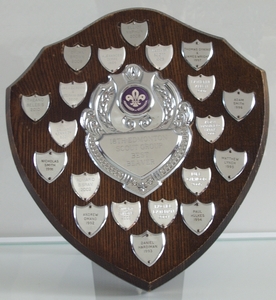 1988
Kevin Hunt
1989
Richard Watkinson
1990
David Ferdinando
1991
Nicholas Smith
1992
Andrew Omand
1993
Daniel Hardiman
1994
Paul Hulkes
1995
Matthew Lynch
1996
Adam Smith
1997
Thomas Dykins & James Wright
1998
Mathew Scott
1999
Alexander Corfe
2000
Jack Gordon & Stephan Bird
2001
Callum Kennedy
2002
Romario Bisram
2003
Stuart Symons
2004
Rachel Bateman
2005
Luke Garwood
2006
Aiden Broomfield-Harris
2007
Katherine Allen
2008
Elliot McPhun
2009
Dylan Brown
2010
Theano Belesis
2011
Amelia Fox
2012
Sarah Hussein
2013
Demi Anne Poole
2014
Ella Rebairo
2015
Ella Western
2016
Jamie Coverdale